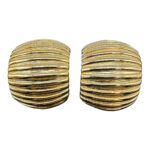 Vintage c. 1980s Givenchy Gold tone Earrings
September 5, 2023
Huge Pink and Gray Floral Spray with Faux Pearls
September 17, 2023
Pink Cabochon and Aurora Borealis Rhinestone Brooch
$49.00
• SKU: US-BC-2023-09-16 14.35.56-60-tjs-a-2
• Designer or Maker: Unknown
• Mark: None
• Style: Brooch
• Circa Date: 1950s (late) early 1960s
• Condition: Great
• Age Group: Adult
• Color: Gold, pink, magenta * please note that the color has been difficult to capture with the various editing programs.
• Material: Brass, gold-tone plate, glass/crystal.
• Size or Measurement: Approx. 3″ t.l. x 2″ w.
• Type: Vintage pink brooch, Aurora borealis brooch, Barbie party brooch, 1950s rhinestone brooch, 1960s rhinestone brooch.
1 in stock
Beautiful large pink cabochon and aurora borealis rhinestone brooch. The brooch features an array of pear, marquis and circular-shaped rhinestones. Perfect for your Barbie party!