Vintage Hobe Coffee Color Moonglow Necklace, Earring and Bracelet Set
July 6, 2021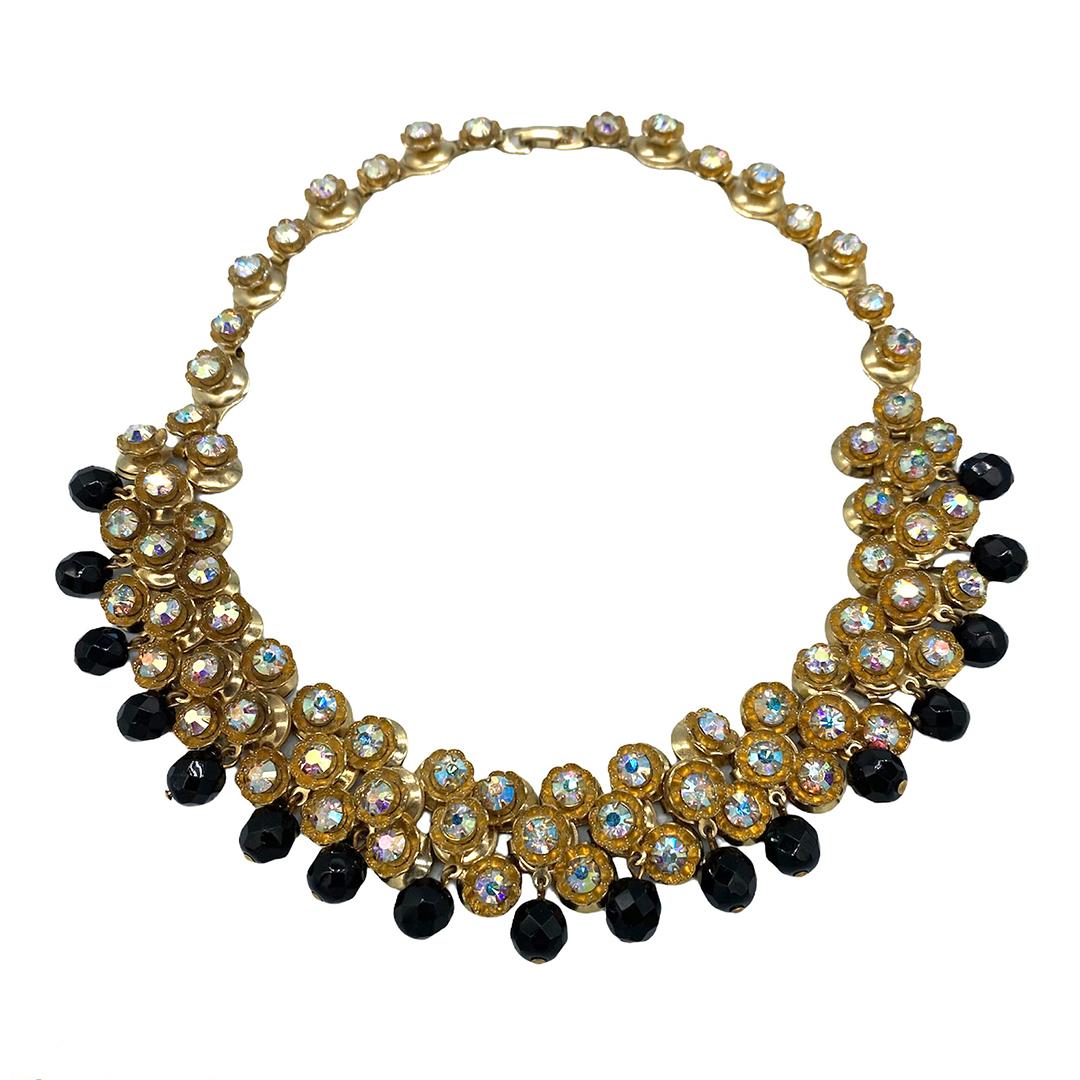 Gorgeous Vintage Necklace Aurora Borealis Rhinestone with Faceted Black Crystal Drops
July 6, 2021
Stunning Triple-strand Vendome Necklace In Amazing Shades Of Red And Violet
$149.00
We are so excited to bring to you this glamorous vintage triple-strand beaded Vendome necklace set. This piece consists of three strands with highly faceted bi-cone like beads with an aurora borealis coating in shades of red and violet. It's truly spectacular. The adjustable clip-back earrings are screw back allowing for the maximum in comfort. The earring beads are tipped with stunning rose montees for extra sparkle. They appear to have never been worn. This set will look phenomenal with both light and dark colored frocks and particularly spectacular with your "little black dress."
Red is a color that is very hard to find in vintage. Don't miss this incredible set!
Out of stock
• SKU:VE-NE2018-06-06 13.42.49-60s-tjs-a-4
• Designer or Maker Vendome
• Mark: Vendome
• Style: Collar, bib hook and bead chain closure
• Circa Date: 1960s
• Condition: Earrings Excellent, necklace does show some minor surface wear to AB coating, but not distracting. Please see photos.
• Age Group: Adult
• Color: Red, violet
• Material: crystal, brass, silver-colored plate, white metal
• Size or Measurement: approximately 17″ with a 2″ drop. Earrings measure 1 1/4″ diameter
• Type: Vintage jewelry, Vintage jewellery, vintage vendome, bead necklace, triple strand necklace, Vendome, fancy necklace, 1960s jewelry, violet beads, red beads, aurora borealis beads, runway necklace, designer necklace, coro jewelry