Fre-Mor Creations Beaded Box Purse
April 12, 2023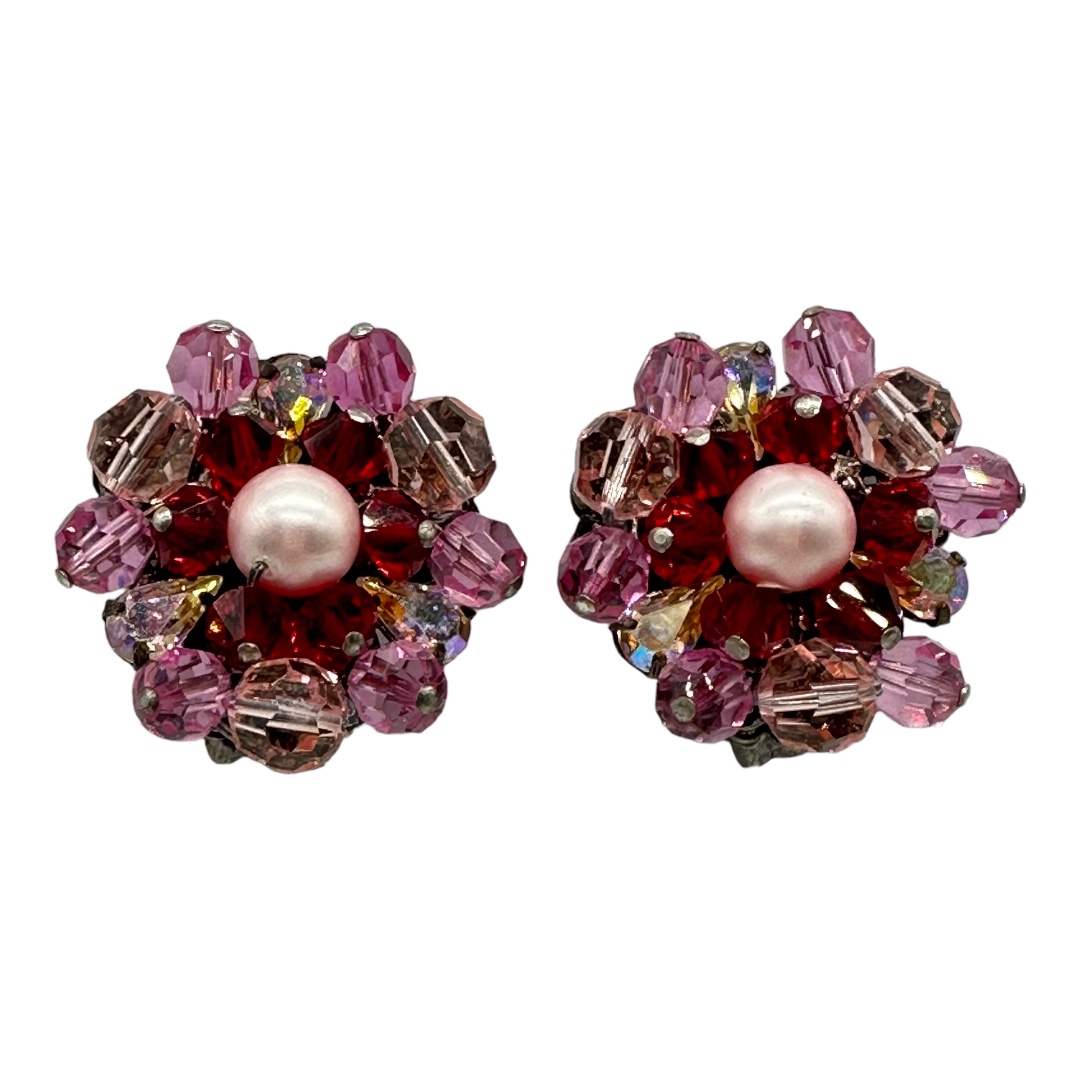 Beautiful Eugene Faceted Crystal and Rhinestone Earrings
April 13, 2023
Stunning Francois Epaulette Style Brooch and Earring Set
$79.00
The Francois epaulette-style brooch and earring set is a stunning and intricate jewelry ensemble that is sure to make a statement. The brooch and earrings feature a wonderful twisted metalwork design that creates an elegant and sophisticated look. The metalwork is expertly crafted and adds a touch of vintage charm to the set.
The brooch is the centerpiece of the set and features a large oval faceted light-topaz colored stone that is encircled by tiny circular rhinestones. The center stone is eye-catching and reflects the light beautifully, drawing attention to the brooch. The surrounding rhinestones add sparkle and shine, creating a dazzling effect.
The brooch also features three dangles that are suspended from the twisted metalwork, each with a generous-sized circular rhinestone. The dangles move with the wearer, adding a sense of fluidity and movement to the design.
The earrings in the set feature the same twisted metalwork design as the brooch, with a generous-sized oval rhinestone. The light-topaz colored stone in the center of the brooch is also present in the earrings, adding continuity to the set. The earrings are designed to complement the brooch, creating a cohesive and striking look.
Overall, the Francois epaulette-style brooch and earring set is a truly gorgeous ensemble that is sure to turn heads. The combination of intricate metalwork, sparkling rhinestones, and the stunning light-topaz colored stone creates a look that is both elegant and bold. This set is perfect for those who love vintage-inspired jewelry and want to add a touch of glamour to their look.
1 in stock
• SKU: FR-BC-ER-2023-04-08 16.27.54-50s-tjs-a-6
• Designer or Maker: Francois
• Mark: Francois
• Style: Brooch and earring set
• Circa Date: 1950s
• Condition: One flipper slightly leans to the right and one spot on back of earring.
• Age Group: Adult
• Color: Gold tone, topaz, clear
• Material: White metal, gold-tone plate, glass/crystal
• Size or Measurement: Brooch measures 3 1/4″ t.l. x 2″ w. Earrings measure 1 1/8″ x 15/16″ w.
• Type: Francois Set, Francois earrings, Francois brooch, Dangle brooch