Signed Eisenberg Ice Brooch and Earring Set
September 3, 2022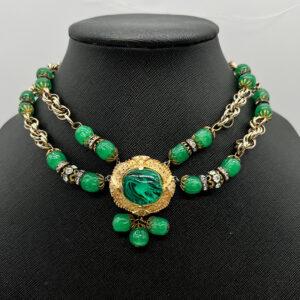 Vintage 1950s Hobe Festoon Necklace
September 21, 2022
Thick Chain Givenchy Collar Silver-tone Necklace
$229.00
This is a fabulous Givenchy collar necklace designed with thick heavy chain. It has the iconic style link Givenchy is known for. Wonderful thick curvilinear detail terminating with a lobster claw clasp and chain with trademark hang tag. The plating has a rich "heavy" appearance.
1 in stock
• SKU: GI-NE-2022-09-03 15.30.19-90s-tjs-a-4
• Designer or Maker: Givenchy
• Mark: Givenchy trademark mark
• Style: Collar/choker
• Circa Date: 1990s
• Condition: Excellent. Minor surface wear
• Age Group: Adult
• Color: Silver
• Material: White metal, silver-tone plate
• Size or Measurement: Approx. 20″ wearable length x 3/8″ w.
• Type: Givenchy necklace, Givenchy 1990s necklace, Givenchy silver necklace, Givenchy heavy necklace, Givenchy thick necklace, Givenchy fashion necklace.