Vintage Jonquil and Sapphire Color Rhinestone Brooch
September 5, 2023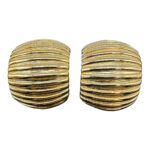 Vintage c. 1980s Givenchy Gold tone Earrings
September 5, 2023
Vintage c. 1980s Givenchy Rhinestone Earrings
$59.00
Lovely c. 1980s vintage Givenchy rhinestone earrings featuring a large faceted center stone that has a slight bluish hue to it, flanked by baguettes and circ. rhinestones with the bottom completely encircle with tiny rhinestones. These are perfect for an evening out, holiday function, wedding or church.
1 in stock
• SKU: GI-ER-2023-08-17 12.36.57-80-tjs-a-2
• Designer or Maker: Givenchy
• Mark: Givenchy
• Style: Button clip back earrings
• Circa Date: 1980s
• Condition: Minimal signs of wear.
• Age Group: Adult
• Color: Gold, clear.
• Material: White metal, Brass, gold-tone plate, glass/crystal.
• Size or Measurement: Approx. 3/4″ diameter
• Type: Givenchy earrings, Givenchy rhinestone earrings, 1980s rhinestone earrings, !980s rhinestone button earrings, Rhinestone crystal earrings, Couture earrings, Wedding earrings.