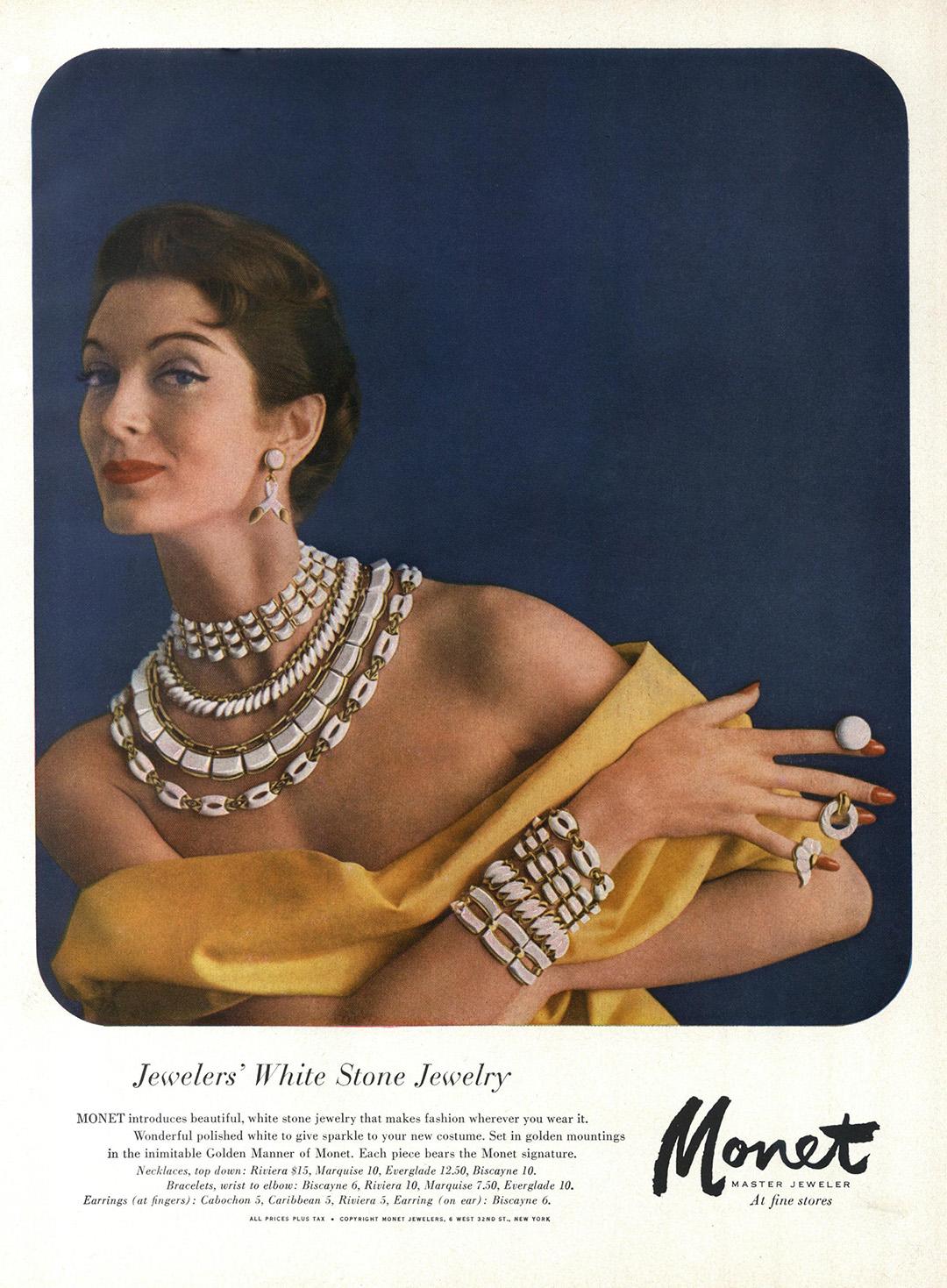 The History of Monet Jewelers' White Jewelry Line
April 11, 2022
Coordinate Jewelry Sets Popularized in 1946
October 17, 2022
Jewelry by Nettie Rosenstein: The First Year
Nettie Rosenstein was one of the nation's foremost fashion designers during the 1930s-1940s. The twenty-year-old business had been a leader in women's fashion since its opening in 1931.
Despite the company's position as a leader in high fashion, the company could not escape hardships inflicted by the war creating a wartime economy of austerity.
Limited by imposed wartime restrictions, her shop, once the source for gowns and dresses selling for upwards of $500.00, came to a sudden closure on March 4, 1942. The closure came as a surprise not only to industry leaders but to the 150 employees of the plant–neither Rosenstein nor her partner cited immediate plans for the future.
However, the closure was short-lived as the fashion designer announced plans to reopen a new establishment two weeks later. Under the new name, "Nettie Rosenstein Inc." The reopening took place in a new location with unionized plant personnel. The sudden change in Rosenstein's decision was influenced by trade associations encouraging her to return with her business partner Charles Gumprecht.
Just months after Nettie Rosenstein closed and reopened her establishment under the new corporation, Rosenstein formed a new high-fashion costume jewelry firm, Nettie Rosenstein Accessories Corp. The collection made its debut in July 1942 with grand fanfare at an afternoon cocktail reception at the new business salon.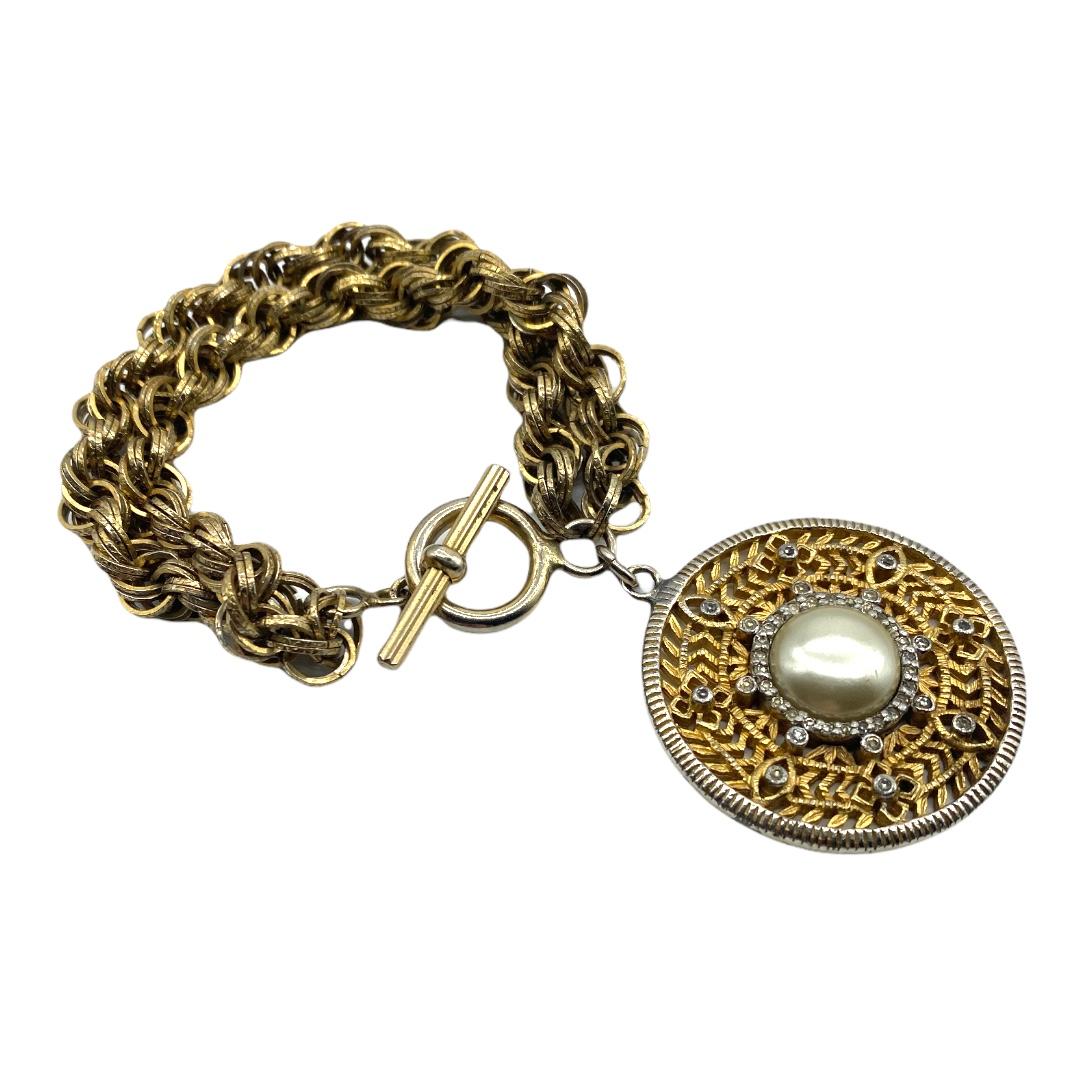 The collection featured pieces described as "interpreting the modern technique that borrows from and reconstructs historical sources in gold—plated sterling silver and colorful stones and enamel. The collection consisted of necklaces, brooches, earrings, and bracelets. The designs included a cluster of graduated moveable coral bead earrings, a sterling flower spray, a double-strand necklace with ruby-colored oblong cabochons suspending hammered metal drops, and a bevy of roosters in shades of light blue and black enamel for a lovely brooch and earring set.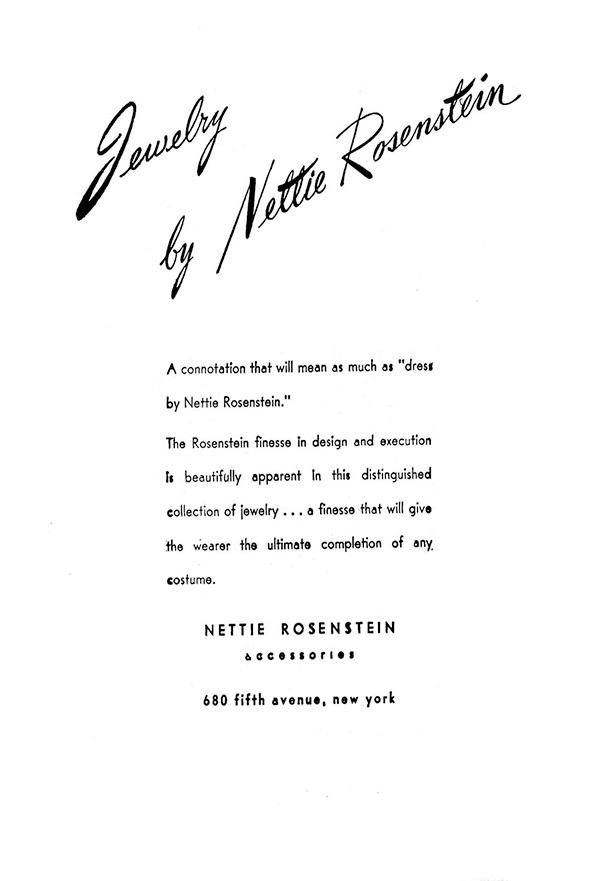 For holiday collection of 1942, the designer introduced an innovative line of sequin hair ornaments and earrings. Gold-plated sterling continued to be featured as part of her Christmas line and was available for purchase in sets. The jewelry fell into two categories: stylized modern-looking jeweler's pieces or novelty pieces such as figural insects, daggers, enameled, and rhinestone-set jewelry.