The Arty Woman of the 1920s
November 26, 2016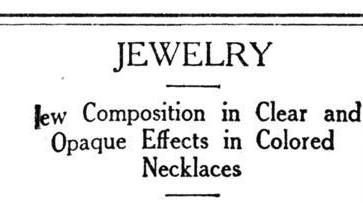 What does a Novelty Bead and Coro have Synonymous with each Other—Cohn and Rosenberger.
December 21, 2016
For the wearer and collectors of both vintage Judith Hendler jewelry and her new "Contemporary Classics" line, here are some fun facts about her creations.
FUN HISTORICAL FACTS
• Designing for 39 years (as of 2017)
• Discovered by Nolan Miller in a fabric store.
• Judith Hendler's vintage "Acri-Gems" were made of the finest acrylic.
• Early pieces were made from an acrylic called, " Acrivue" made by Swedlow Aircraft.
COLORS COMBINATIONS
• Black
• Black and White
• Black and Pearl
• Black and Topaz
• Navy and White
• Crystal Clear
• Crystal Clear with colored "gems."
• Crystal Clear and pink
• Champagne
• Hot Pink
TRADEMARKS
• JH in a circle
• Early pieces were unsigned. Some have a metallic trademark sticker applied to a sectional plaque.
JUDITH HENDLER JEWELRY WAS SOLD IN THE FOLLOWING STORES
• Macy's
• Saks Fifth Avenue
JEWELRY APPEARANCES ON FILM
• "Days of Our Lives"
• Knots Landing
• Favorite of Joan Collins
TRADEMARK CHARACTERISTICS
• Designed to open on the left side via hook.