1950s Boucher Rhinestone Collar Necklace
May 29, 2023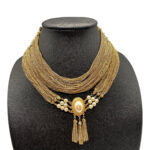 Vintage German Festoon Necklace
June 10, 2023
Ledo flower rhinestone brooch
$129.00
Since 1911, the Polcini family had a rich history of being in the jewelry business– when Mr. Ralph Policini initially formed the Leading Jewelry Co.
In 1948, Ledo was founded by Mr. Polcini. The company produced a wide range of vintage costume jewelry.
In 1951, Ralph Polcini (then president of Ledo Jewelers) was awarded the "Fashion Academy Gold Medal" for excellence in design. The award represented distinctive design, beauty, and outstanding fashion appeal.
The overall design has a three-dimensional motif. The floral bloom features a highly detailed surface with a "pave-set" base of circular clear rhinestones.
1 in stock
• SKU: PO-BC-2023-05-29 16.19.54-50s-tjs-a-1
• Designer or Maker: LEDO
• Mark: LEDO
• Style: Brooch
• Circa Date: 1950s
• Condition: There is surface metal wear on the high points of the flower design. Price has been reduced accordingly for close-out.
• Age Group: Adult
• Color: Gold, clear
• Material: White metal, gold-tone plate, glass/crystal.
• Size or Measurement: Approx. 3″ t.l. x 1 3/16″ w.
• Type: Huge flower brooch, LEDO jewelry, LEDO brooch, Polcini, 1950s jewelry, 1950s brooches.