Italian Mosaic Pins – Costume Jewelry For the Tourist Trade
April 28, 2018
A Brief History of the Goldstein-Poland Co. Inc.
May 17, 2018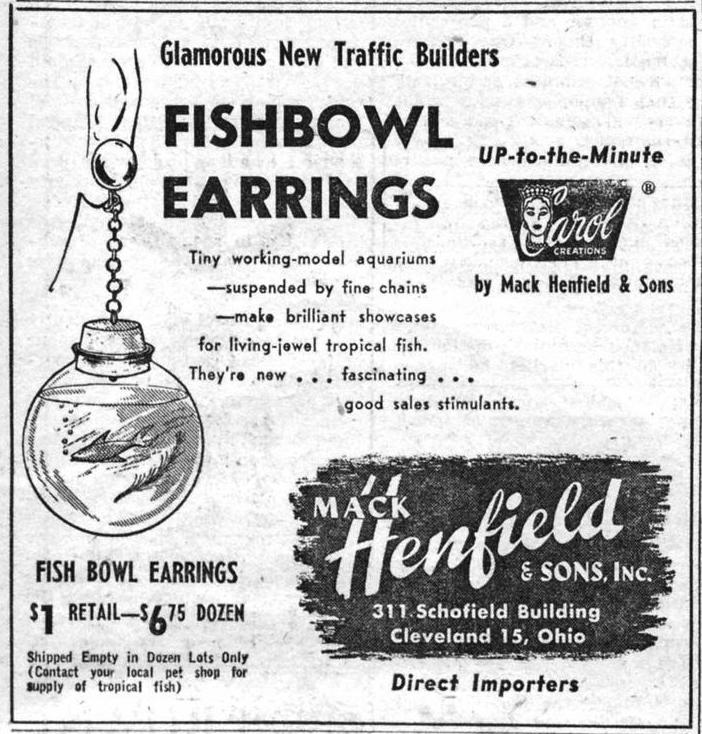 Novelty Jewelry: Fishbowl Earrings by Carol Creations (Mack Henfield and Sons)
Each decade has its own quirky fad of novelty jewelry that retailers used to drive traffic to their stores. One such fad dubbed as, "Glamorous New Traffic Builders," was "Fishbowl Earrings." By Carol Creations a label owned by Mack Henfield & Sons, Inc.
This company specialized in fast-selling promotional jewelry mainly focusing on current fads and gimmicky jewelry. Some of the advertisements below feature pieces we often find in our grab-lots as the unidentified, low-end jewelry.
"Tiny working model aquariums –suspended by fine chains –make brilliant showcases for living-jewel tropical fish. They're new … fascinating … good sales stimulants."
"Ship empty in dozen lots only. Contact your local pet shop for supply of tropical fish."
In today's market, I'm not sure "fishbowl" earrings would even come to market. They seem rather cruel to have some fish floating around in ear bobs, but it was a different time and place during the 1950s. Could you just imagine an episode of, "I Love Lucy"? I could completely see her antics with Ricky while wearing these.
Do you have a picture of someone wearing "Fishbowl" earrings?